Recovery Sessions
A lot of times we put the work in the gym and don't always do the maintenance outside the gym to keep our body's from hurting and recovering in a timely manner. Our recovery sessions use proven methods to reduce pain and inflammation and break up knots in the body.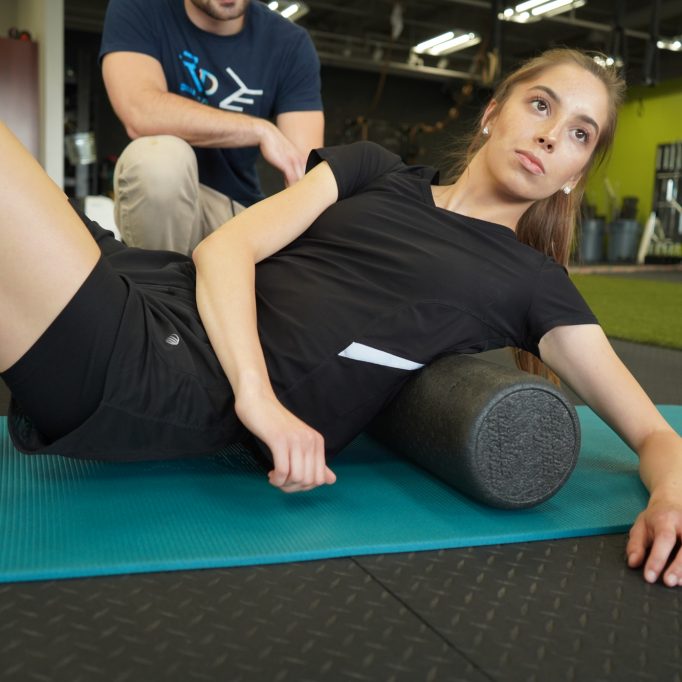 Our recovery sessions consist of 4 methods:
Muscle Stim Therapy
There are 2 parts to stim therapy. EMS and TENS.
EMS (Electrical muscle stimulation) is often confused with TENS (Transcutaneous Electrical Nerve Stimulation), a common modality used in physical therapy offices.
Complex EMS provides an electrical current at a specifically designed frequency to target motor nerves.
These nerves then activate the muscle to contract based on the amount of resistance applied through the device. The brain also goes through a similar process when actual weights are lifted.
TENS is designed to target sensory nerves. Typically, sensory nerves receive a signal that they relay to the brain, the brain then decides if the stimulus is painful, soft, warm, etc.
When using a TENS program the goal is to alleviate pain by either inducing an endorphin release (Low Frequency TENS programs) or to block the pain signals to the brain through the Gate Theory (High Frequency TENS programs).
Percussion/vibration therapy
Helps relieve muscle soreness and stiffness

Improves range of motion

Promotes circulation

Accelerates warm up and recovery

Myofascial release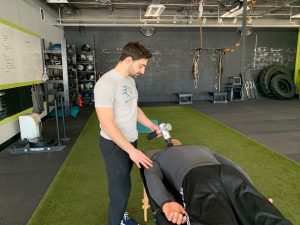 Pressure point release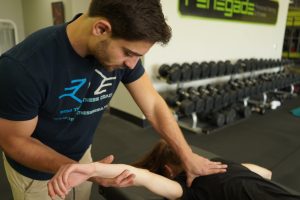 Stretch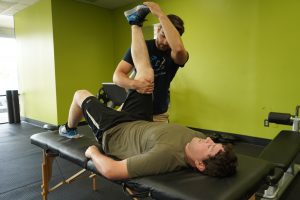 For 30 minutes you will experience one or all of these methods, depending on what your need is for that day. Our recovery sessions are personalized to the individual based on current complaint, pain, tightness, inflammation, or other problems you might be running into. This is not a generic service. Everyone is different so not everyone will get the same care. So, whether it's constant soreness or on going pain, we're here to help get you moving and increase your quality of life.
Interested in recovering faster or increasing quality of life?
Being a high school hockey player, I was always in pretty good shape, but after college I was left with a pesky beer belly. Since working with Don, I'm stronger than I've ever been! I finally have my abs back. Now, I always get compliments from my friends and family.
Since Don and I have started, I was only able to squat 65 pounds. After 5 months of hard work, I'm now squatting 205 pounds 4 reps and have increased my vertical by 5 inches.
Working with Don, I was able to drop 30 pounds in just 4 months. I now weigh less than I did in high school and feel better than ever.
After the 8 weeks were up, my players wanted more sessions with Don, and a few of them continued to see him one-on-one throughout the season. He cares about his athletes not just as clients, but as people. Don took the time to show up to multiple of our games this season, in order to support the girls and see their athletic improvement. The team was happy to present him with a super-fan shirt, which he wore proudly! Thank you Don for all your hard work!
Don's training has helped me feel more fit and confident with myself during both on and off seasons. He pushes us to reach our full potential and gave us more opportunities to bond as a team especially during the winter and spring when we only had one team practice a week. Along with feeling more confident physically, I also always left feeling inspired because Don has such a bubbly personality and always had a quote of the day that tied in to hard work and life lessons.
Don's training was hard but overall such a fun experience with my teammates. There wasn't a session where I wasn't dripping in sweat, but we were always laughing and smiling while doing it. Somehow, Don made the sessions quite enjoyable and very beneficial for all of us, and I don't think I could've gotten that experience with anyone else. His recovery sessions are another great service he offers, and they really helped me bounce back after those long tournament weekends!
Don's training this winter was definitely that extra push all of us needed during our off-season. It helped us get back into shape and build up our endurance before our first games. I enjoyed his program so much that I still train with Don one-on-one with a few of my teammates. Pushing through the workouts every week brought everyone closer heading into the season, and I would definitely recommend Don's training (and recovery sessions!!) to all Eagan Wave teams and athletes!